New facility boosts Titletown Manufacturing's capabilities
Titletown Manufacturing recently moved to a larger facility creating additional opportunities for our team to provide value for customers. Assembly of machine parts and the ability to perform test runs places us in a premium supplier category above most machine shops.
Taking parts we make and assembling them into end products saves time and money, and in-house production enables us to conduct first-hand quality control at multiple steps of the process. Our combination of steel fabrication services and assembly of machine parts results in tight-tolerance, high-performance final projects.
"Give us the print, and we can have your machine plumbed, wired, complete the hydraulics and do the electrical," states Chris Fuss, Titletown Manufacturing's co-owner along with Dan Hilliard. "We'll complete the assembly of machine parts to provide a machine that's ready to go with your programming."
New building allows for complete assembly of machine parts and test runs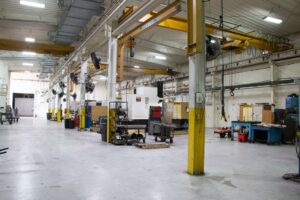 One of the big advantages of our new building is having enough square footage to store product so we can conduct test runs prior to shipment. Tissue wrappers, slitters and bag machines are just some of the projects that benefit from our ability to complete assembly of machine parts and test the final product.
Our new Ashwaubenon location features 40,000 square feet of space, or roughly double the size of our previous facility. A dedicated assembly bay gives our team the space it needs for assembly of machine parts, complete with sole plates embedded into the floor for leveling mainframes.
Simplify your paperwork, streamline communication, and reduce delays for transportation between outsourcers with the one-stop capabilities of the Titletown Manufacturing team. Contact us to learn more about how our assembly of machine parts capabilities can benefit your next project.
About Titletown Manufacturing, LLC
Titletown Manufacturing, LLC, is a trusted metal machining and fabrication shop with over 60 years of experience in CNC machining, welding, grinding, assembly and reverse engineering for a wide range of industrial customers throughout the region. The company employs more than 30 people at its facility at 817 Marquis Way in Green Bay, Wisconsin.
For more information on Titletown Manufacturing or to request a quote, please go to https://www.titletownmfg.com/or call 920-435-9074.